Where Culture Comes First
We treat our team as an extension of our family and here you will find a culture rooted in the empowerment and support of others.
Our award-winning culture has been recognized by AZ Top Companies To Work For, Glassdoor, Most Admired Companies, Phoenix Business Journal, and others. Check out this video to see what makes us, us.
Award-Winning Culture
DP Electric believes in giving back to our team as much as possible. This is why a large majority of our profits are funneled directly back into the company culture. DPE hosting appreciation lunches, a foreman's trip, profit sharing, a holiday party, and much more.
Growth Opportunities
DP Electric's learning and development team are here to support you in your career growth.
Employee Stock Ownership Plan
In 2021, DP Electric officially became an employee-owned company!
Benefits and Earning Potential
DPE offers employees medical, dental, and vision plans in addition to generous paid time off, 401k options, continued education opportunities, wellness plans, and company gym access.
The nationally accredited apprenticeship program at DP University is designed to give students an unmatched education experience by blending the curriculum designed by the NCCER along with the core values of DP Electric Inc. This four-year program encompasses classroom instruction coupled with on-the-job learning to create highly educated, well-rounded electricians. This program is offered at no expense to DP Electric employees and is recognized by the department of labor as an accredited program.
"Very proactive and thoroughly embed the qualities of their employees and value safety. The benefits they provide are far and few between the 2 salaried careers I've previously held. They continue to impress me with the dedication the put into growing their employees and their company while maintaining the qualities the company was founded on. They have a strong culture that helps form the work production on site and off site relationships with co-workers. I'm beyond thankful to be apart of this company and look forward to growing my career."
Organized Leadership Structure, Incentives for good work, Free Schooling, Employee Appreciation and Engagement.
They pay for the schooling. For such a large company, I don't feel like a number. Opportunity to learn something new comes often as long as questions are asked
DP Electric Job Openings
DP Electric empowers our people to grow personally and professionally to create an exceptional experience for our team, our partners, and our community.

Assistant Project Manager
Tempe, Arizona, United States - 85282
Description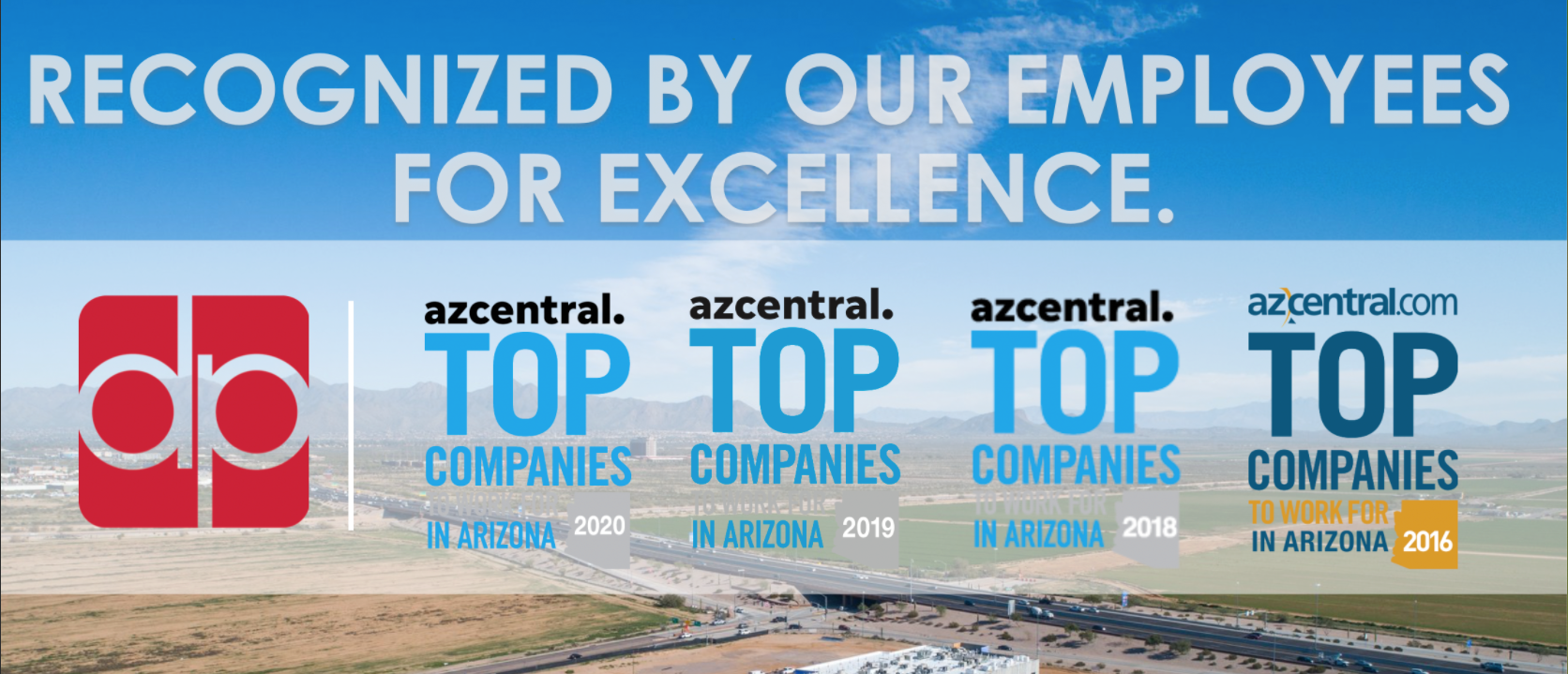 AWARD-WINNING LEADERSHIP, AWARD-WINNING CULTURE
2020 AZ Central Top Company to work for

2019 Inc. 5000 Fastest Growing Private Company

2019 Phoenix Business Journal: Most Admired Company

2019 AZ Central Top Company to work for

2018 AZ Central Top Company to work for

2016 AZ Central Top Company to work for

2018 AZ Business: Most Admired Leader Founder/CEO, Dan Puente

2018 Phoenix Business Journal: Most Admired Company

2018 Arizona Corporate Excellence Award

Glassdoor Open Company 
JOB DESCRIPTION:
From the delivery of a bid summary through the final walkthrough, Assistant Project Managers are able to manage a diverse range of projects at different stages of completion while insuring execution meets DP Electric standards. The Ideal Assistant Project Manager candidate is decisive, an advocate for safety and results driven with the ability to hold both themselves and their team accountable.
CAREER PATH:
  Project Manager

  Senior Project Manager

  Executive Project Manager

  Vice President
RESPONSIBILITIES:
Develop company goals and objectives on an annual basis 

Maintains a positive work environment where open communication is encouraged

Reviews all purchase orders, submittals, contracts while maintaining a change order log

Project billing for all active jobs to the end of period

Process time and material vouchers

Develop all MOP's in a timely manner
QUALIFICATIONS:
1-3 years' experience in a project management role or 5+ years as a foreman

Experience with managing large commercial projects in a diverse array of sectors

Thorough knowledge of all aspects of construction

Prior experience in electrical estimating

Strong computer proficiency Microsoft Office Suite, Viewpoint, Cosential and McCormick

Excellent verbal and written communication ability

Strong interpersonal skills

Healthcare or Mission Critical Experience a plus!
BENEFITS
Medical Insurance - Four different medical plans to choose from

Dental Insurance - Three different dental plans to choose from

Vision Insurance 

$25,000 Life Insurance Policy at no cost to employee

Additional Life Insurance opportunity

401k with company match

Paid Time Off

Tuition reimbursement opportunity

Continuing education through DP University

Tuition reimbursement through an accredited apprenticeship program

Profit sharing opportunity

Company fitness center

Competitive market driven compensation
Hiring is contingent upon successful completion of drug screen and background check. DP Electric Inc. is a drug free workplace. EOE.
DP ELECTRIC INC | 2210 S. Roosevelt St. - Tempe, AZ 85282 | 480.858.9070 | Recruiting@dpelectric.com
CLICK THE LOGO TO SEE WHAT OUR EMPLOYEES ARE SAYING ABOUT #LIFEATDPE!