Where Culture Comes First
We treat our team as an extension of our family and here you will find a culture rooted in the empowerment and support of others.
Our award-winning culture has been recognized by AZ Top Companies To Work For, Glassdoor, Most Admired Companies, Phoenix Business Journal, and others. Check out this video to see what makes us, us.
Award-Winning Culture
DP Electric believes in giving back to our team as much as possible. This is why a large majority of our profits are funneled directly back into the company culture. DPE hosting appreciation lunches, a foreman's trip, profit sharing, a holiday party, and much more.
Growth Opportunities
DP Electric's learning and development team are here to support you in your career growth.
Employee Stock Ownership Plan
In 2021, DP Electric officially became an employee-owned company!
Benefits and Earning Potential
DPE offers employees medical, dental, and vision plans in addition to generous paid time off, 401k options, continued education opportunities, wellness plans, and company gym access.
The nationally accredited apprenticeship program at DP University is designed to give students an unmatched education experience by blending the curriculum designed by the NCCER along with the core values of DP Electric Inc. This four-year program encompasses classroom instruction coupled with on-the-job learning to create highly educated, well-rounded electricians. This program is offered at no expense to DP Electric employees and is recognized by the department of labor as an accredited program.
"Very proactive and thoroughly embed the qualities of their employees and value safety. The benefits they provide are far and few between the 2 salaried careers I've previously held. They continue to impress me with the dedication the put into growing their employees and their company while maintaining the qualities the company was founded on. They have a strong culture that helps form the work production on site and off site relationships with co-workers. I'm beyond thankful to be apart of this company and look forward to growing my career."
Organized Leadership Structure, Incentives for good work, Free Schooling, Employee Appreciation and Engagement.
They pay for the schooling. For such a large company, I don't feel like a number. Opportunity to learn something new comes often as long as questions are asked
DP Electric Job Openings
DP Electric empowers our people to grow personally and professionally to create an exceptional experience for our team, our partners, and our community.

Foreman Electrician
Tempe, Arizona, United States -
Description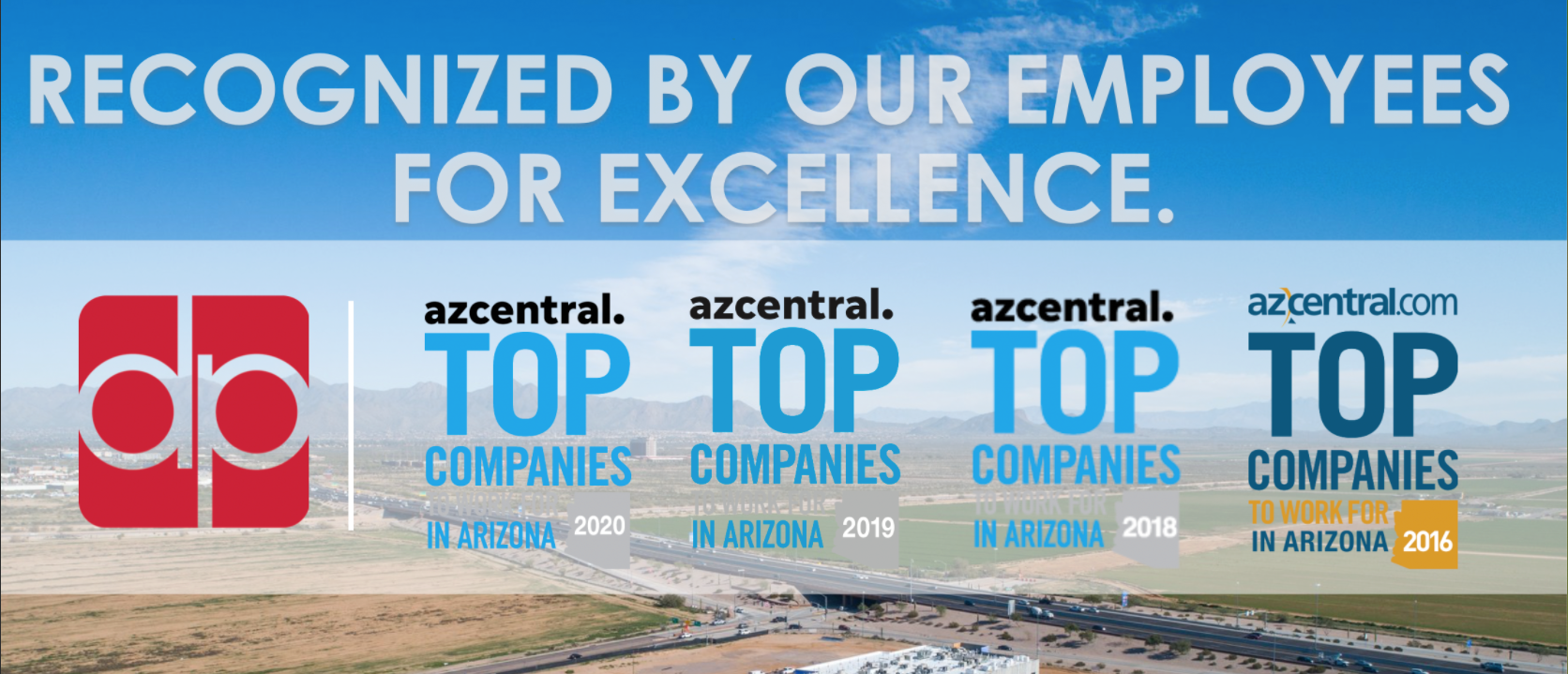 AWARD-WINNING LEADERSHIP, AWARD-WINNING CULTURE
2020 AZ Central Top Company to work for

2019 Inc. 5000 Fastest Growing Private Company

2019 Phoenix Business Journal: Most Admired Company

2019 AZ Central Top Company to work for

2018 AZ Central Top Company to work for

2016 AZ Central Top Company to work for

2018 AZ Business: Most Admired Leader Founder/CEO, Dan Puente

2018 Phoenix Business Journal: Most Admired Company

2018 Arizona Corporate Excellence Award

Glassdoor Open Company
Sign-On Bonus: DPE is offering $2,500 sign-on bonuses to all foreman electricians.
JOB DESCRIPTION:
A Project Foreman Electrician is able to work through their people to complete projects on time, on budget while maintaining company safety standards. This individual has mastered Journeyman level work and is able to communicate their vision to the team. The ideal candidate leads proactively, has a strong understanding of all planning materials and adheres to all NEC, state and local codes and is looking for career growth.
CAREER PATH:
General Foreman

Estimator

Assistant Project Manager

Project Manager
RESPONSIBILITIES:
Knowledge of Commissioning, PDU's, STS and UPS's

Strong QA/QC focus

Motivating team through action and leading by example

Consistently works to reduce labor cost through team development

Always adheres to company and job safety standards per OSHA and is a safety advocate on the job site

Understands all labels, job site maps/directions, instruction manuals, and written instructions

Able to plan, man load and forecast with a focus on managing materials

Understands cut-sheets and do lay-out
QUALIFICATIONS:
12+ years experience in the electrical trade

Experience with running jobs $2M or above.

Proficient with Microsoft Office Suite

Detail-oriented with strong communication skills

Able to keep an open channel of communications between GC and PM

Comprehend and coordinate A-Sheets, reflective ceiling plans, and all details for proper layout

Understands blueprints, legend symbols and determine scale of plan for branch circuit, one-line diagrams, and riser diagrams

Able to use test equipment to test, trouble shoot, and repair systems to ensure working conditions before turning such systems over to the customer

Knowledge and ability to work with live/energized parts and possess the technical knowledge to do this per NFPA70E
BENEFITS
Medical Insurance - Four different medical plans to choose from

Dental Insurance - Three different dental plans to choose from

Vision Insurance

$25,000 Life Insurance Policy at no cost to employee

Additional Life Insurance opportunity

401k with company match

Paid Time Off

Tuition reimbursement opportunity

Continuing education through DP University

Tuition reimbursement through an accredited apprenticeship program

Profit sharing opportunity

Company fitness center

Competitive market driven compensation
Hiring is contingent upon successful completion of drug screen and background check. DP Electric Inc. is a drug free workplace. EOE.
DP ELECTRIC INC | 2210 S. Roosevelt St. - Tempe, AZ 85282 | 480.858.9070 | Recruiting@dpelectric.com
CLICK THE LOGO TO SEE WHAT OUR EMPLOYEES ARE SAYING ABOUT #LIFEATDPE!